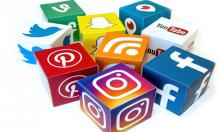 Ruth Pawson School is pleased to inform you that we will be having a Parent Social Media Awareness Night on Wednesday, June 5th, 2019 at 7:00 pm at Ruth Pawson School.  We are fortunate to have Constable Corneilla Seiferling share her wealth of knowledge around challenges that children face with social media. 
The social media world is evolving very quickly!  Do you find yourself saying, "I don't understand all that social media stuff"? Now is the time to start your learning journey!  As social media changes, we need to now more than ever, stay on top of the features of social media and the power that our children have in their hands.  Adults of the world need to stay educated about social media so we can support our children with making positive decisions, which will ultimately keep them safe, happy and healthy.   
We hope you can join us!
Check out these other resources for parents to help learn and guide children through the digital age:
https://protectkidsonline.ca/app/en/
https://www.getcybersafe.gc.ca/cnt/rsrcs/cmpgns/cmpgn-06/gd-prnts-en.aspx
https://www.commonsense.org/education/toolkit/family-engagement-resources