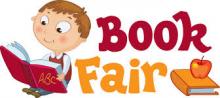 Dear Parents and Families
The Scholastic Book Fair is coming to our school on November 23rd and 24th. What better way to promote reading to our students, than by supporting this important literary event.
We invite your entire family to stop by the library when you come to the school for conferences. Your support of this vital literacy event is a key part of helping us obtain new books and resources for our library and classrooms.
You'll find hundreds of quality books at our Book Fair with a wide assortment for all reading levels. Visit the "Scholastic Book Fairs" website www.scholastic.ca/bookfairs/ to get more detailed information about these books. You can also watch book trailers and author videos with your child on the BookTube page.
Don't forget to mark the Book Fair dates on your calendar! We look forward to seeing you during our Scholastic Book Fair and will be open from 8:00 a.m. until 5:00 p.m. on November 24th.
We thank you, in advance, for supporting this great event. Thank you for believing in books and the impact of reading on your child's future.