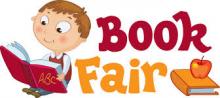 Dear Parents and Families
The Scholastic Book Fair is coming to our school on November 23rd and 24th. What better way to promote reading to our students, than by supporting this important literary event.
We invite your entire family to stop by the library when you come to the school for conferences. Your support of this vital literacy event is a key part of helping us obtain new books and resources for our library and classrooms.