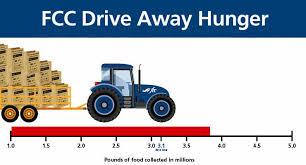 Ruth Pawson School will once again participate in the FCC Drive Away Hunger program by collecting donations of food for people who are hungry in our area. By participating in this program, FCC will include our school in two draws for a $500 donation.
Please send food items to school with your child between Oct. 5 - 12, to support this program. FCC staff will bring a big tractor and trailer to collect our donations on Oct. 12.
Donating food isn't the only way to participate; we are also doing an in-school activity so every student can get involved.
For more information of FCC Drive Away Hunger, visit https://www.fcc-fac.ca/en/in-your-community/fcc-drive-away-hunger.html
Below is a list of most needed food items according to Food Banks Canada:
pasta products and rice
canned meats and fish
dry and canned soups and stews
canned fruits and vegetables
flour
breakfast cereal
canned/powdered milk
fruit juices
pasta sauce
beans and legumes
infant formula and baby food          
Thank you for your support. Working together, we can drive away hunger!