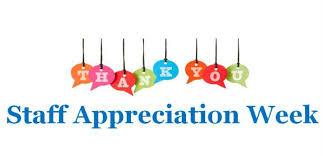 Staff Appreciation week is February 11-17, 2018 and this year's theme is "Inspiration Through Learning."
We would like to say thanks to all the amazing staff at Ruth Pawson School. Our Pawson staff works very hard, and goes above and beyond to create a wonderful learning environment for your children. Our amazing staff includes teachers, educational assistants, caretakers, our administrative assistant, speech and language pathologist, school psychologist, school counsellor, School Resource Officer,  and our principal.
We hope you will take the time to say 'thank you' to these hard working people at Ruth Pawson.