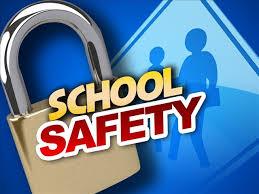 In partnership with the Regina Police Service and our School Resource Officer, we practice school "Evacuation", "Lockdown", and "Secure the Building" drills throughout the school year:
Lockdown (threat in or to building) - All school occupants are secured in designated locked areas and regular activities are stopped.
Secure the Building (threat outside the building) - All exterior doors are locked. No one can enter or exit the building. School activities continue inside the building.
Evacuation - Students will exit the building to a designated location. All students will be accounted for once safety exited.