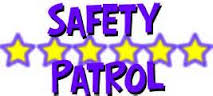 Thank you to our Ruth Pawson Safety Patrol team, for helping to ensure our students are safe when crossing the streets near our school. Our teams are on duty at 11:45 a.m. and at 3:37 p.m. on Weekes Crescent directly in front of the school, and at the corner of Weekes and Broad Street.
The team is under the direction of our School Resource Officer, Constable Greg Krawetz, and schedules are coordinated by Mrs. Bosch at the school office.
Patrollers gain confidence, learn responsibility and leadership through the program, and they model these traits to other students in our school. Thank you to drivers for following the patrollers' directions and to the 2017-18 Pawson Safety Patrol team members: Amy, Isaac, Hannah, Evan, Jovie, Neely, Taleigha, Taylor, Dawson, Owen, Dax, Ainsley, Drew, McKenzie, Anya, Sierra, Tyler and Marissa.